Create a 'wow' factor space in your home in 2022 with these top ten quick and simple wall decoration ideas to transform your space and create a happier place for you and your family to spend your time.
1. Step outside your comfort zone
To make a dramatic change to any room, the two main options we look to are paint or wallpaper. We know both of these products and we feel happy and confident using them. Try to dig down within you and use a colour or print that pushes you outside your comfort zone but also excites you at the same time. It will create a space that recreates that excitement every time you walk into the room.
2. Instant revamp
One of the fun ways to add a focal point or character to a room is by using wall decals or stickers. Known for being used in children's rooms, nurseries and playrooms, but don't be fooled that they only belong in these spaces. Quality products and designs can be found to add a touch in utility rooms, boot rooms and kitchens.
3. Wall murals
Add a bit of character to a feature wall in your room by using a wall mural. A fantastic focal point and certainly creates a talking point with visitors. Wall murals come in lots of different forms, from photography, art and even wallpapers printed with unique designs such as the map wallpaper below.
4. Be your own artist
Not too sure about a dramatic change? Try creating your own painting or canvas art. Use the colours that you have used in your room so that the artwork fits in with the scheme. Use a mixture of colours and mediums to create your artwork and hang it with pride. Look at Pinterest for some ideas If you feel stuck on where to start. You don't need to be a professional artist, just have fun creating it. Homes should be personal and filled with personality.
5. Looking good!
Two lovely examples of decorative items to be hung on wall are mirrors and clocks. Mirrors help you know you're looking good before you leave your home, and they can also serve to make a space look and feel bigger. A quick glance at a beautifully designed wall clock can tell you if you're running on time.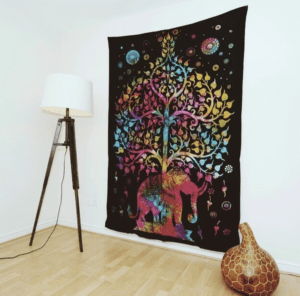 6. Hang tapestries
Tapestries can add a touch of class, colour and texture to a space. They are harder to come by than other types of wall hangings, and so they're often not even considered, but a well-placed tapestry or even a rug can add warmth and variety to an rooms decor. Take a look at tapestries123 on Instagram for some inspiration.
7. Shelving
Add some shelving to your walls to store and display a range of personal items (ideas below). If you hang the shelves yourself you can line them up or stagger them to create add a focal point to the room. Make sure that you use a material that works well within your scheme.
8. Creating a gallery
Like me I bet you have a ton of images on your computer or smartphone, but displaying your best photos on the walls of your home keeps friends and family close. They serve as a happy reminder of your favourite people, holidays, weddings, events. Doing this will help your mental health and gives you a boost every time you walk past them.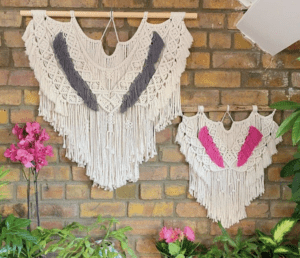 9. Macramé
Macramé, one of the most classic crafts has returned with a vengeance and I personally think this is due to Angel on Escape to the Chateau creating her wonderful wall hangings. If you don't know how to do it, you can find many tutorials on the internet. Two Instagram profiles that should help you get started are macrame.emma and macramemakers.
10. Functional items
Functional wall decor include decorative coat racks, blackboards, wall-mounted televisions, and accent lighting. Also consider displaying family heirlooms or pieces that have sentimental value or unique meaning to you.