In this article we will be looking at five minimalist packaging designs that create impact and explore the basics of creating a minimalist design that will make your product stand out in the market. We will also look at the importance of sustainability and eco–friendliness along with five tips to create your own.
In our recent article 'Successful Branding Trends for 2023' minimalist packaging design was high on the list for what we will expect to see a lot more of in 2023. Minimalist packaging is the perfect way for brands to present their products in an original and dynamic way amongst the noise of their competitors.
Successful minimalist packaging design follows simple and straightforward principles. By using the brands identity and self-explanatory messaging (that describes exactly what a product is or how it functions) brands can create impact for their brand and product.
Minimal packaging design is hard to master. The materials that designers use are so simple in nature that creativity must play a huge role in the process. If you're thinking about designing minimalist packaging for your brand, read on and learn from those that have succeeded in the style.
5 examples of great
minimalist packaging design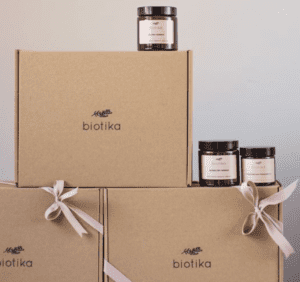 Biotika have reduced their packaging to maximum simplicity, which attracts attention due to its rustic character. There's consistency in the way Biotika sells its products visually – the natural, brown cardboard works well with wooden elements that often appear on their social media images alongside the candles. As a result, packaging becomes an essential part of the company's image and completes the experience with the product.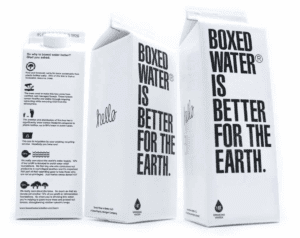 This brand has a strong belief–so strong, in fact, that their brand name also serves as their mission statement. Unlike plastic water bottles, these packages can be easily flattened for shipping, meaning that it takes 25 fewer trucks to deliver the same number of containers.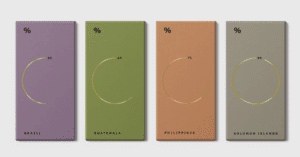 Percentage Chocolate have brought the cocoa content to the forefront of their packaging. The design treatment reflects the premium quality of the chocolate and presents a simple and direct message to the consumer. This treatment enhances the products lavishness with a confident yet minimal use of gold foiling. The packaging's purist and sophisticated approach allow the packaging to stand out on the shelf with minimal visuals.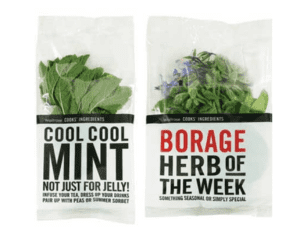 This UK supermarket rebranded their herbs in an attempt to boost sales and encourage people to get back in the kitchen to enjoy cooking. The tabloid style typography expresses the brand's personality with animated suggestions like "dress up with drinks" and "pair up with peas," showing how the brand's products can be a lively addition to any meal.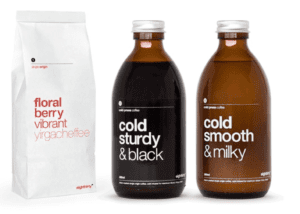 For hipsters and business executives alike, cold brew coffee is a must-have drink for summer. To stand out from other brands in the specialty iced coffee space, Eighthirty Coffee Roasters branded their cold brew bottles with succinct, enticing descriptions that don't waste any time explaining what's inside.
Create your own minimalist packaging
with these 5 simple tips
When creating a minimalist packaging design, there are a few key elements to consider.
1. Messaging
First
,
decide
what
kind
of
message
or
story
you
want
to
tell
through
the
design
.
This
will
be
the
basis
of
the
design
and
will
help
determine
how
the
design
should
look
.
2. Materials
Second, decide what materials you want to use for your packaging. Different materials have different levels of environmental impact, so it's important to consider this when selecting materials.
3. Colour Palette
Then you need to consider the colour palette. Choosing a limited palette will help create a more unified and cohesive design.
4. Typography
Consider the typography and layout of the design. This should be minimal and simple, with plenty of white space to draw attention to the key elements of the design.
5. Packaging Use
Finally, when creating a minimalist design, it's important to consider how the design will be used. Is the packaging meant to be disposed of after use, or is it meant to be reused? This will help determine what type of materials and finishing processes should be used.
Finally
Follow these designs and guidelines to create your own minimalist packaging design that stands out from the crowd and effectively communicates your message.