Turning a room into a multi-functional space doesn't need to effect how you host family and friends. Using a space more efficiently makes common sense, especially now for some hybrid and home working is a part of everyday life.
The trick is to create a multifunctional room that boosts your creativity but equally works as a welcoming space for family or guests to relax in. The best part of creating a multi-functional space is that you can fit it around your personality and interior taste!
We have gathered 11 of our favourite tips and tricks to create an inspiring and desirable multi-functional space.
1. Use the right lighting
Ensure you have lighting options to suit your working needs through the day and to create a comfortable ambience in the evening when used as a bedroom. This can range from a mixture of desk and spot lights by day and a low wattage lamp by night.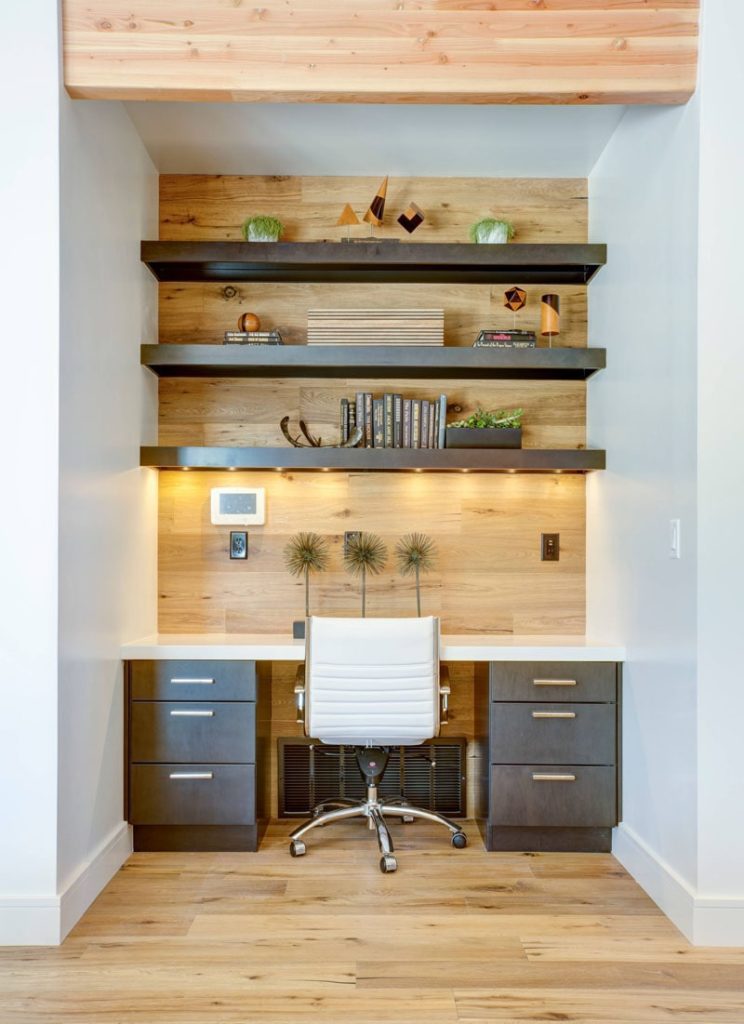 Image: Mark Haywood. Designed by: Blackbox Design Studios
2. Decorate using Brand Colour
Use your brand colours to create a branded and productive work environment. Use them tastefully so visitors will find the room relaxing to stay in, yet when on a zoom call, your background is branded and looks professional.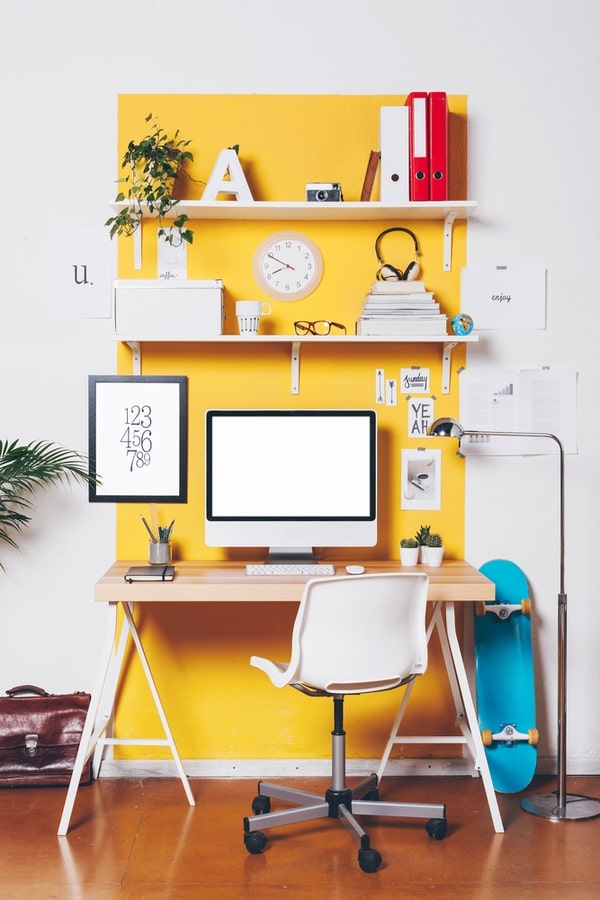 Image: sunlitspaces.com
3. Meaningful and Inspiring Wall Art
Choosing artwork to create an inspiring home office that also serves as a welcoming guest room is simple. We recommend turning your values, quotes, inspirational quotes into framed wall art. Use your brand colours, or keep them black, white or neutral if you have used strong brand colours on your wall.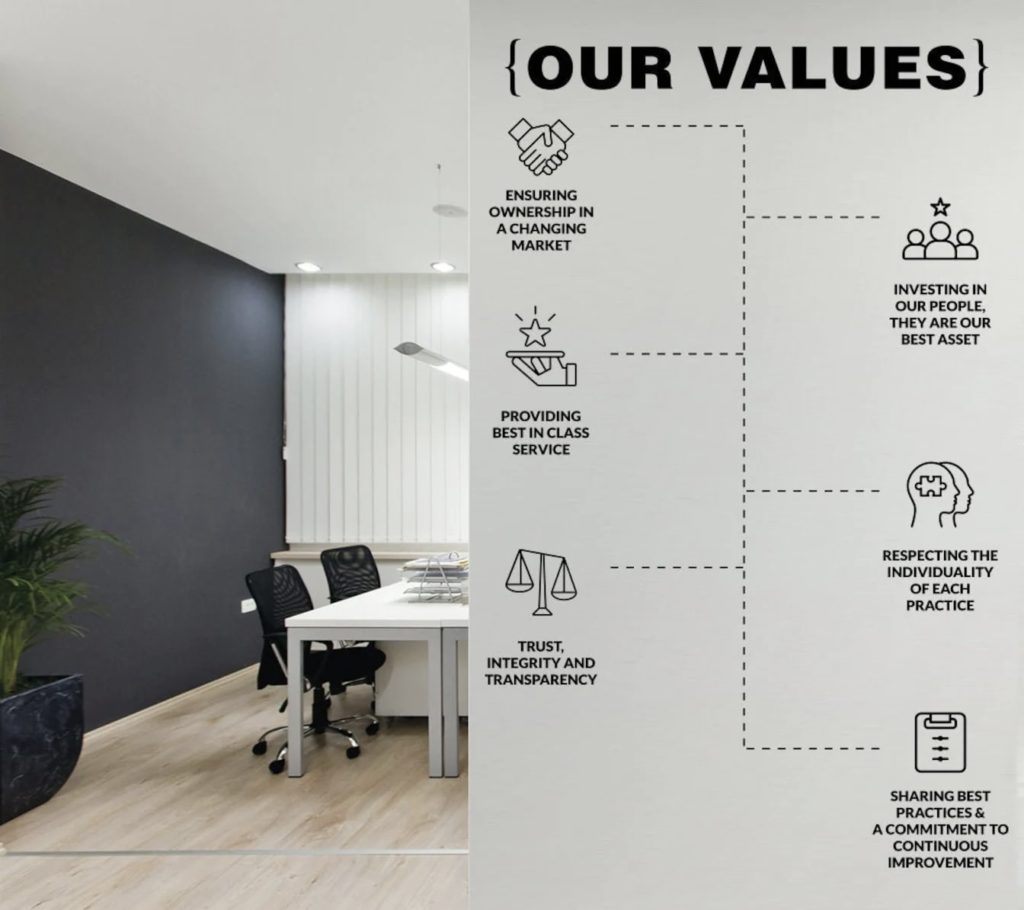 Image: Etsy.com
4. Collapsible Options
There maybe somethings you need such as digital and photography backdrops, photo studios and green screen for video use. Look at collapsible options that can be stored down the side of wardrobes or under the bed. Different options are available under varying price brackets.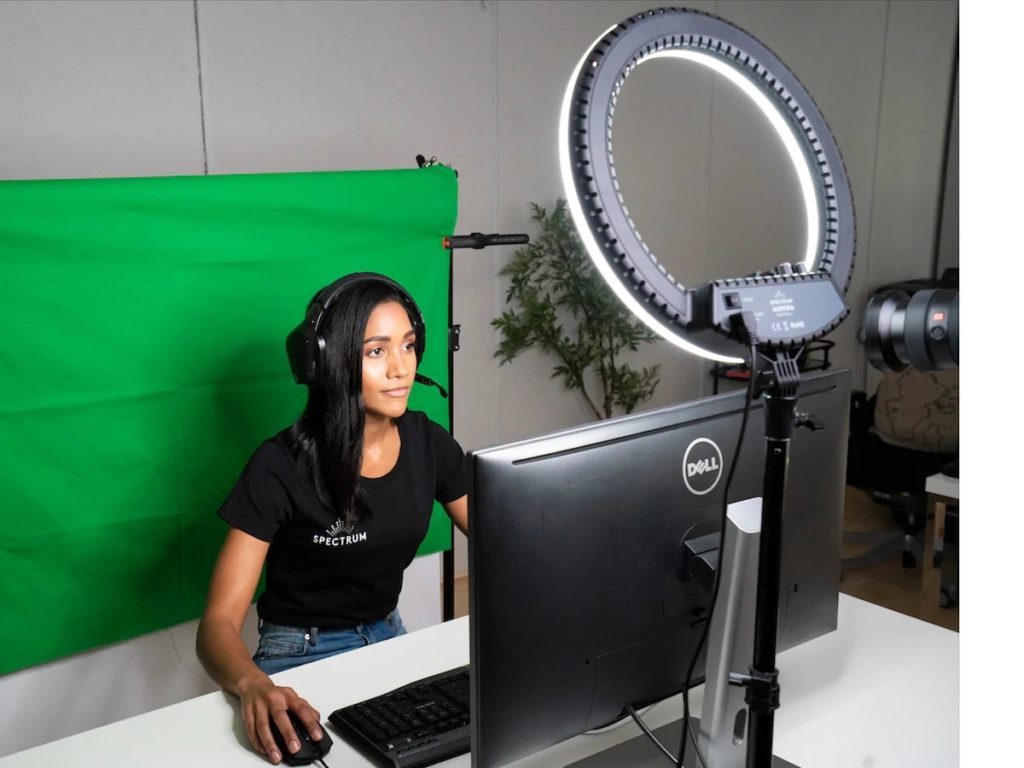 Image: Spectrumbrand
5. Healthy Plants
Plants are great for purifying the air and to help our health, but they can also make our multifunctional work spaces feel more homely and enjoyable places to spend our time. Choose plants that suit the natural light in your environment. If you struggle to keep plants alive, go for the faux option.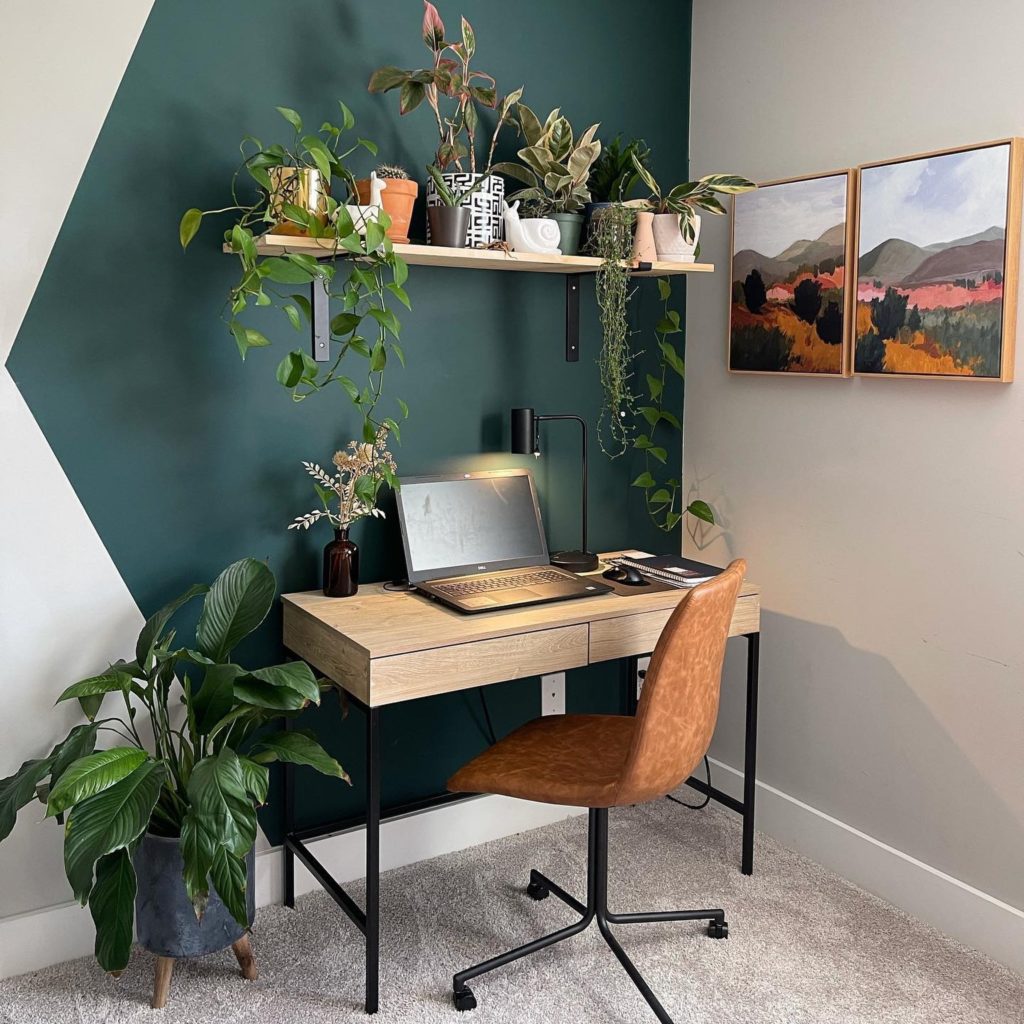 Image: HouseBordeaux. Designed by: Target.com
6. Dividing spaces
If you want to have more space for your bedroom than an office, think of ways to divide the space up. Try using a large curtain or foldable screen for a less permanent option.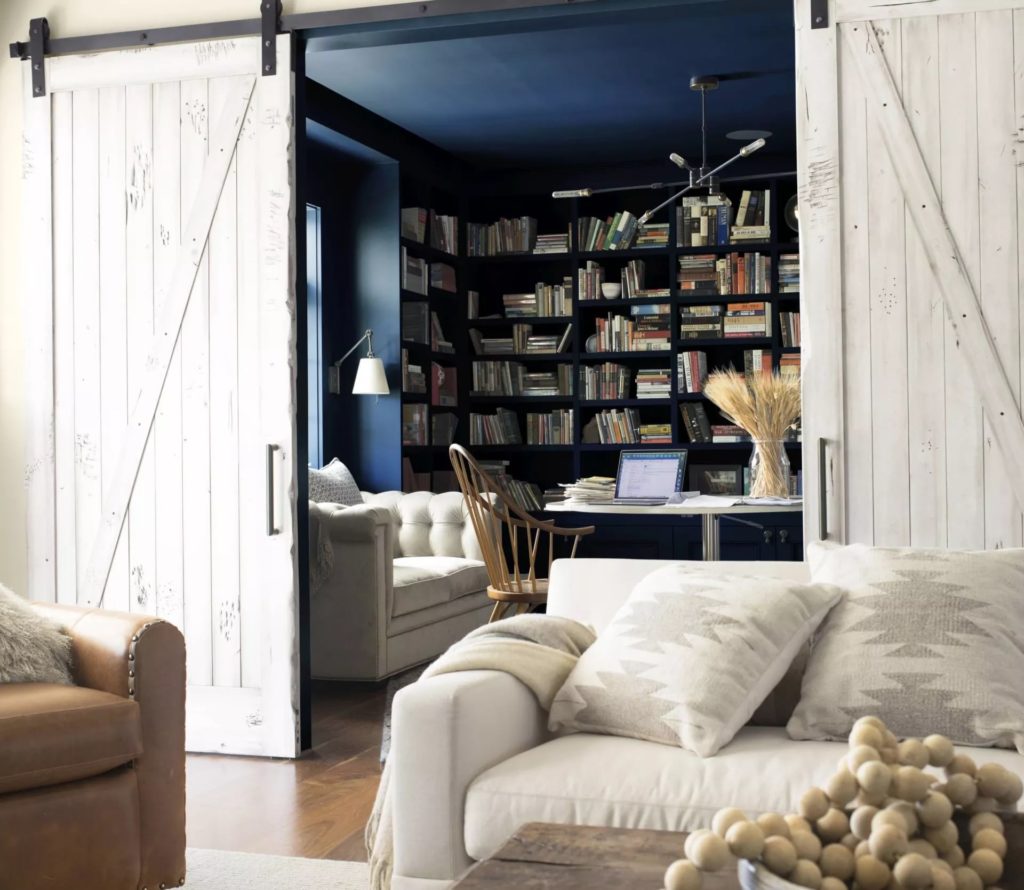 Image:Benjamin Moore
7. Sensible Furniture Solutions
Want to hide your desk space, use furniture that folds away. There are plenty of solutions in the market that hide or integrate office spaces. Research and find one that suits your requirements and space. Look for furniture with a mix of open and covered storage which will allow you to hide the things you need to and create an attractive display with your brand coloured boxes, baskets and folders.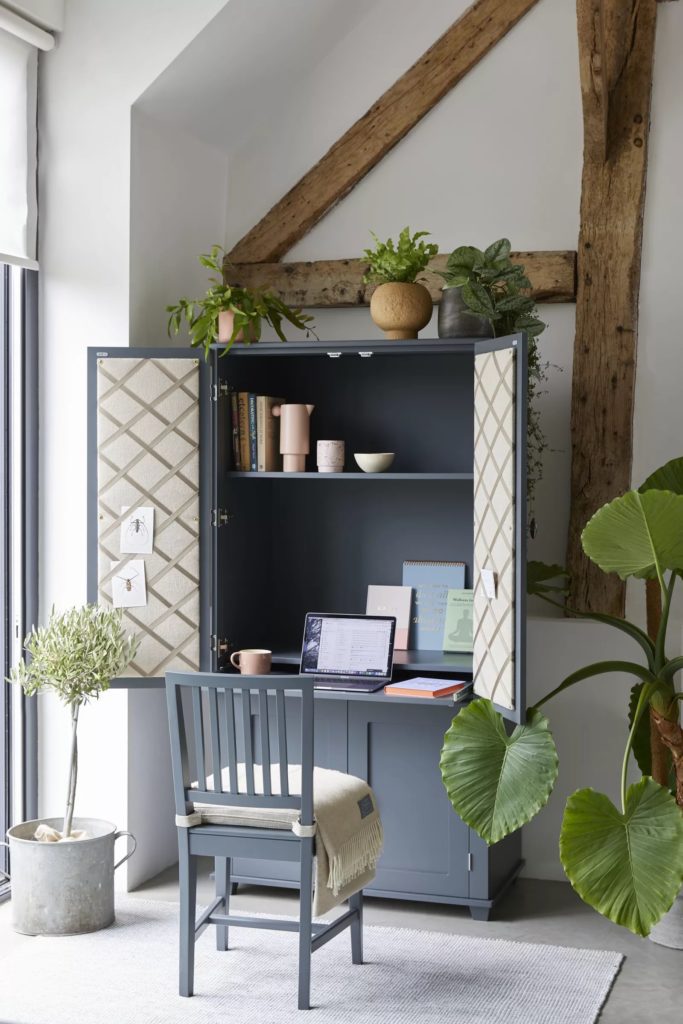 Image: The Dormy House
8. Versatile Storage
Make sure the storage you choose is versatile, and contains a home for everything you need to keep your home office tidy and productive. There are so many options on the market, but if your budget is on the small side, try up-cycling old furniture to give you your perfect and unique home office solution. You can even add colour highlights by purchasing boxes and folders in your brand colours.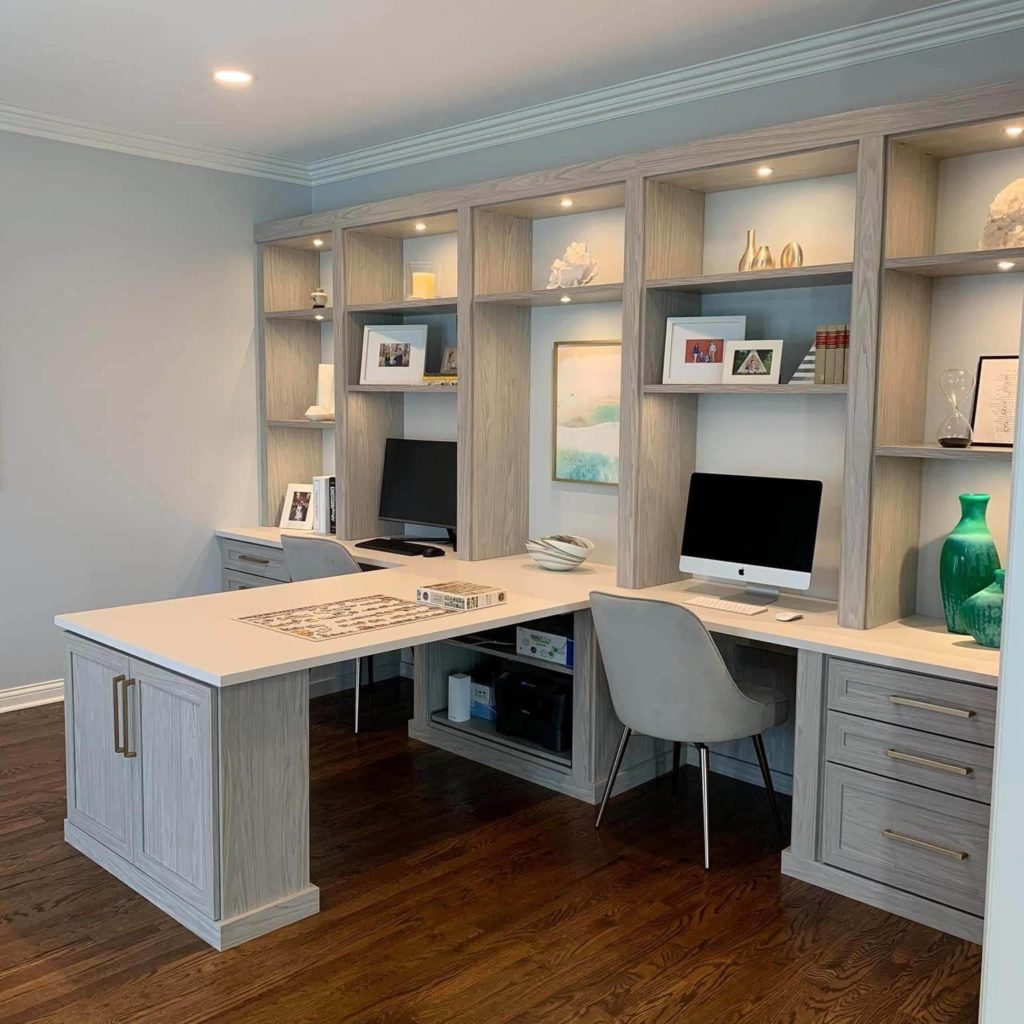 Image: California Closets
9. Soft Furnishings Duvets & Blankets
Having soft furnishings such as pillows, duvets and blankets with patterns matching your brand colours
will bring a softness and comfort to your multifunctional work space scheme.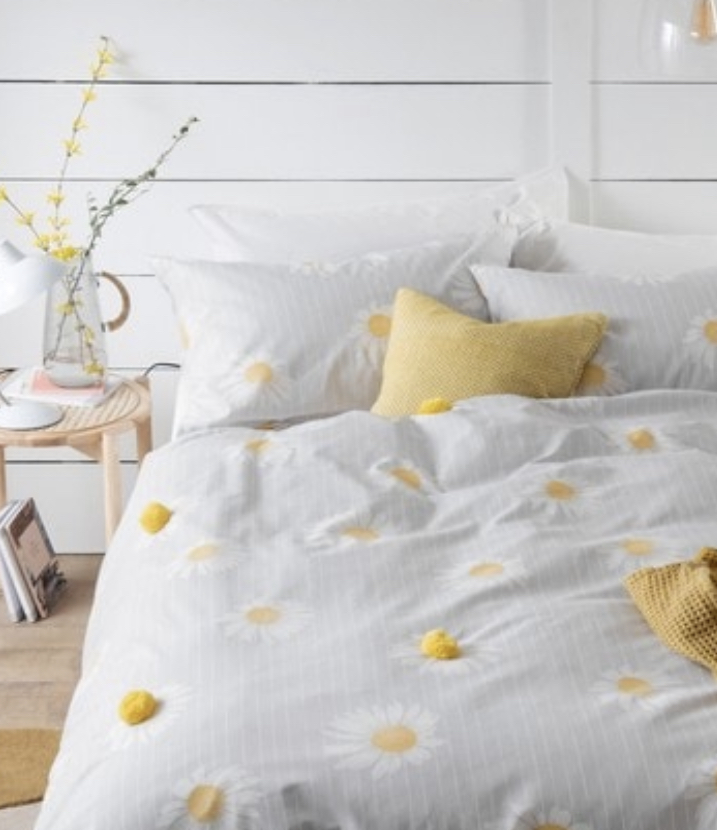 Image: Next
10. Space Saving Bed
You maybe happy to work around the bed you have, but if budget or space is an option the following maybe an option.
Before buying a guest bed, consider how often people will be spending the night and the space you need for the rest of the time. A smaller day or sofa bed may work better in your space if you only host occasionally or also need to incorporate seating.
Foldable beds
Are a convenient, portable and particularly useful as a space saver where there's no room for a permanent full-sized bed.
Child Friendly
If your child has frequent sleepover guests, consider a trundle bed. This is a bed with a second bed underneath the frame. Some have storage compartments which can be used for bedding.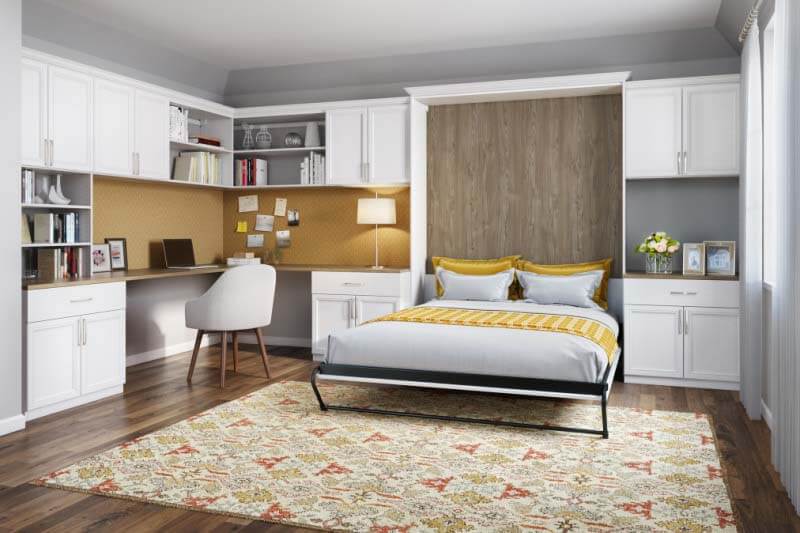 Image: California Closets
11. Extra Details
When visitors come and use your office/spare room pop in extra details such as clocks,
fresh flowers and a trinket dish to give that home from home feel.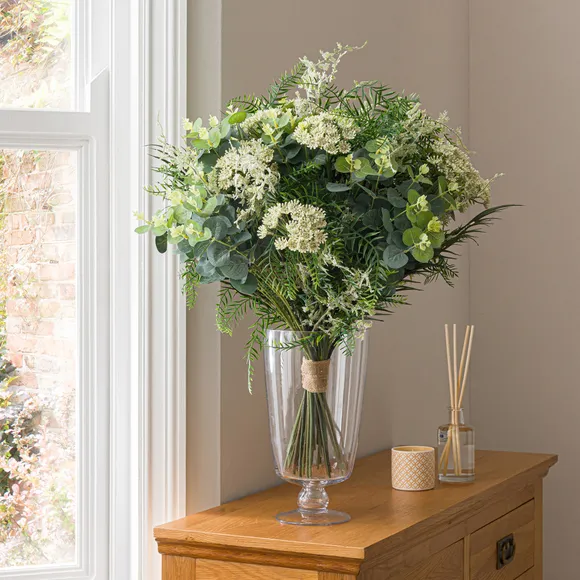 Image: Dunelm
Need help?
Talk to us about your multi-functional space so we can help to bring subtle brand touches into your living space through bespoke wall art.
To see how we can help take a look at our residential interiors page or book a 30 minute curiosity meeting online.